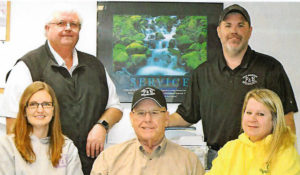 P & B Insurance Agency opened the doors in 1982 with one state of mind, service!
Treating producers as they want treated, especially at loss time.  Ron Palecki had sold a few hail policies throughout the 70's, but after acquiring 13 customers in 1982, it all began in the laundry room at the old farmhouse.
It took a little time for Ron to get Lea Ann on board, but once he did the business blossomed.  Ron and Lea Ann farmed all day and took care of producers ½ the night.  A few secretary's came and went through the years until 1996 when Dan Palecki (their youngest son) joined P&B.  The 3 continued working together growing the business until 2007 when Dan Mosher was hired.  Mosher was a crop adjuster for many years and was a excellent fit.  He has become a great asset to the company.  About the time of Mosher's arrival Lea Ann was forced to retire with health issues.  Ron continued working for a few more years but currently is not involved with the day to day activities.  Denice McGovern was hired in 2012 and has also became quite valuable to the agency.  P&B now insures customers from KC to Colorado and Salina south to Oklahoma City.   Dan, Mosher, and Denice continue to have the same mindset as Ron and Lea Ann had back in the 80's, "SERVICE".  At P&B it is definitely not a department, it's an attitude and way of life!
Why Choose Us
We put your interests first
Important Dates
Upcoming Crop Insurance Dates:
Planting deadlines differ so much by crop and county, please call, text or email for exact dates.